Nani Ma (2022)
35 min / color / official site
As the 95-year-old late Musamoni Panigrahi battles loss of memory, her never-before recorded songs and stories are in danger of being lost forever.
First-ever documentary in Baleswari, a dialect of India's Odia language, based on oral history, and a personal tribute to my late grandmother.
---
The Volunteer Archivists (2022)
35 min / color / official site
The rarest publications in the Odia language dating back to early 1800s are perishing fast thanks to collective negligence. How does a group of volunteers save them digitally?
I volunteered to archive the work the volunteer archivists at Srujanika, who made me curious and a maker my whole life.
---
MarginalizedAadhaar (2021)
69 min / color / official page
India claims to provide legal identities to over 1 billion people through a national biometric ID program — Aadhaar. But does it further access for the marginalized individuals or exclude them further.
As an outcome of the Digital Identity Fellowship I was awarded by Yoti in 2019, I made the documentary feature MarginalizedAadhaar. Released in 2021, it looks at existing issues of exclusion of marginalized groups in India and the role of Aadhaar in furthering/addressing the same. MarginalizedAadhaar was premiered at the re:publica 2021 Berlin, screened worldwide and included in academic programs.
---
The National Geographic Society awarded me a grant in 2017 to further OpenSpeaks, an open initiative that I founded to grow educational resources for citizen language documentors and archivists who are building multimedia in low-medium-resource languages. I became a National Geographic Explorer that year and made three documentaries as a part of the grant, Gyani Maiya, Mage Porob and Remosam.
Gyani Maiya (2019)
25 min / color / website
Adults in an Nepali indigenous community have long forgotten their language while coping in a fast changing world. How would the eldest of two last living speakers document her near extinct language?
A Global Voices article by close friend and fellow Global Voices author Sanjib Chaudhary inspired me to make this film. Eventually, I collaborated with Sanjib and researcher Uday Raj Aaley, whose work Sanjib had covered in this article, to make this film. Gyani Maiya is based on and is narrated by the late Gyani Maiya Sen-Kusunda, who was presumed to be the last living fluent speaker of Nepal's Kusunda language.
---
Mage Porob (2019)
35 min / color / website
Everyone in an eastern Indian village must come together to celebrate the blessings of their deities – the forest and the hill – with the new harvest. It's the dance of the year.
Second film of the National Geographic Society grant series, Mage Porob documents the eponymous harvesting festival and other cultural observations of the Ho indigenous community of eastern India. The film was a foundation of our friendship and colllaboration with the Veer Birsa Munda Ho Students Union Odisha (Birbasa) that continues til date. The film is entirely in the Ho language. Once considered vulnerable, it now sees more uptake among the youth who can be attributed for a linguistic movement and socio-economic assertion.
---
Remosam (2019)
35 min / color / website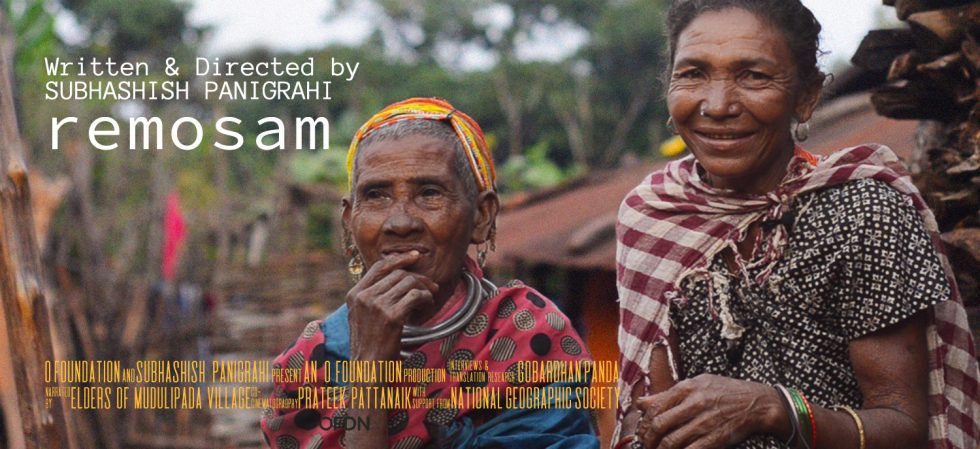 Far up on the Bonda hills, the Bonda people are met with dysfunctional governance that fails to feed or keep their language alive.
Third film of the National Geographic Society grant series and was an outcome of multiple long collaborations: with lexicographer and researcher Gobardhan Panda as the primary interviewer and translator, with the Council of Analytical Tribal Studies and its head Dr. Prafullo Chandra Mohapatro as advisor, and Prateek Pattnaik who was co-cinematographer. The endangered Remosam (Bonda) language is spoken by the Bondak/Bonda people living in the Koraput and Malkangiri districts of Odisha, India. Remosam premiered at the Koraput Literary Festival 2018.
---
Reach out for screening of these films or for reviews and interviews.
---
Filmmaker Bio
Subhashish Panigrahi is a non-fiction filmmaker and a public-interest digital archivist whose work depicts the role of tech and media in democracy, language justice, and abolition of caste, gender, and socioeconomic oppressions.. He has nine films and several other notable media works and awards to his credit. He is 2017 batch National Geographic Explorer, a 2023 DWeb Fellow, a 2019 Digital Identity Fellow at Yoti, and 2017 MJ Bear Fellow. He has served several civil society organisations such as Ashoka, Wikimedia, Mozilla, Internet Society and the Centre for Internet and Society in leadership roles for over 12 years.
With support from the National Geographic Society, he collaborated with speakers of several endangered and vulnerable languages, including the late Kusunda language elder Gyani Maiya Sen-Kusunda. The outcome, three award-winning documentaries including the eponymous Gyani Maiya, became linguistic resources for the speakers themselves apart from being showcased outside of the speaker communities. Gyani Maiya received widespread accolades such as the best screenplay award at the International Film & Entertainment Festival Australia 2022, 6th International Folklore Film Festival Thrissur 2023, Balkan Can Kino Athens, Bozok Film Festivali Turkey and Festival RNAB Sao Paulo. Subhashish went on to win the maiden Digital Identity Fellowship by Yoti in 2019 and make MarginalizedAadhaar, a documentary feature encapsulating the role of the Indian biometric ID — Aadhaar — in excluding marginalised groups. MarginalizedAadhaar saw a world premiere at re:publica 2021 Berlin. He has also discussed widely about his media practices in journals, books, blogs, podcasts, MOOCs, and keynotes.